Manage your Customer Pipeline and Streamline Sales.


Improve customer engagement, forecast the customer journey, and discover better ways to meet customer requirements our crm software in Sri Lanka.
Odoo CRM automates lead generation, top-of-funnel communication, and task allocation to sales reps.

Significantly cut down on tedious tasks like lead scoring and update management, Odoo monitors and assesses prospect activity (time spent on a webpage or the open rate of emails).

Configure unlimited pipelines and customizable stages to organize your opportunities with a simple drag and drop. ​
Increase the Efficiency
of your Salesforce​

Obtain accurate forecasts of current and future sales. Odoo CRM helps salespeople detect prospective business opportunities so they can plan ahead, schedule meetings, make calls, send automated emails, and create tasks in just a few clicks.

All these activities are carried out on a modular, ergonomic, and easy-to-use interface. Assess and size up the evolution of prospects with the user-friendly drag-and-drop functionality and kanban visualization.​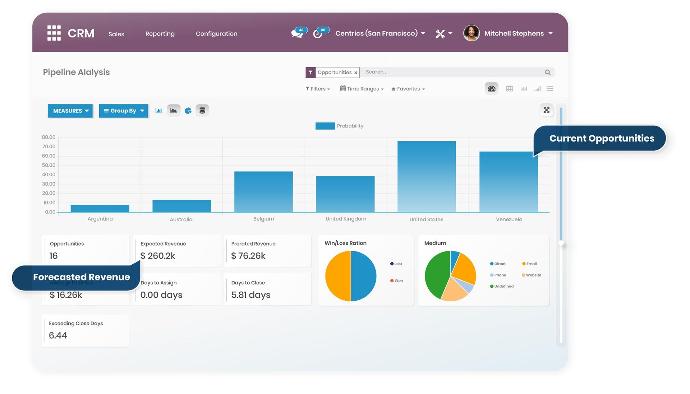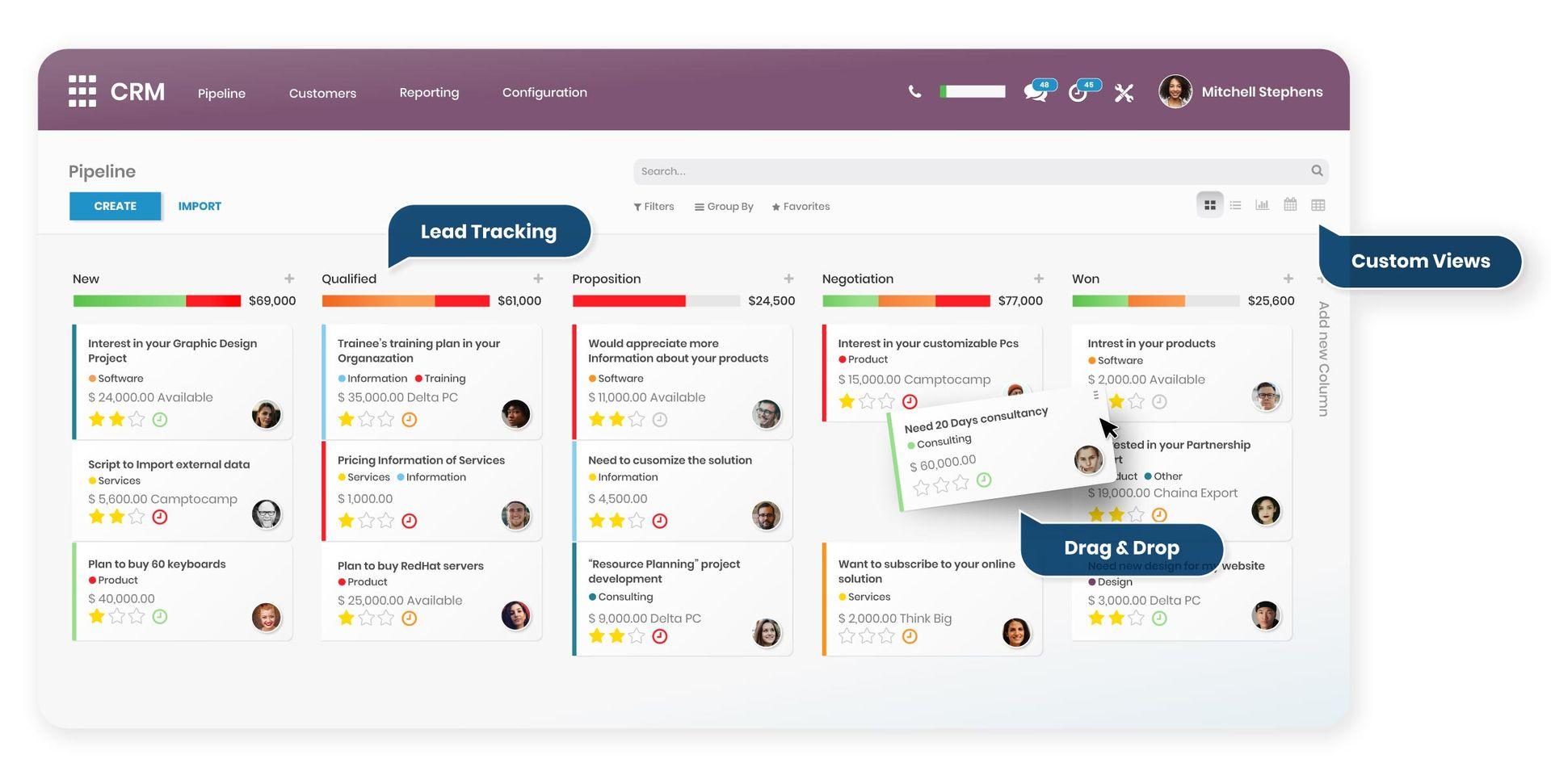 Custom Views for Process Optimization

Design custom views that best suit the needs of your sales flow; the calendar, dashboard, cohort, kanban, pivot, and graph views help in creating an organized and seamless approach to effective sales management. Leverage the automated pipeline feature to assign tasks to team members. Drag and drop columns like 'New', 'Qualified', 'Proposed', and 'Completed', can be used to seamlessly move projects or customers from one stage of the sales process to the next.

Track leads better, close sales opportunities, and see accurate forecasts that drive revenue and business growth. Stay informed on the performance of your salesforce, the feasibility of your leads, and the effectiveness of your resource allocation.
Real-time Dashboards and Performance Analysis


Get a quick overview of your team's operations with dashboard displays on customer meetings, calls logged, emails sent, and business won, making it possible to efficiently coordinate the entire workflow. Organize tasks in line with scheduled activities and maintain a record of all communication between the company and the client.

Generate reports to monitor revenue splits by month, quarter, and year. Assess performance against monthly goals, and study future predictions on opportunities, revenue, lead generation, and conversion rates to make decisions that lead to an increase in company turnover.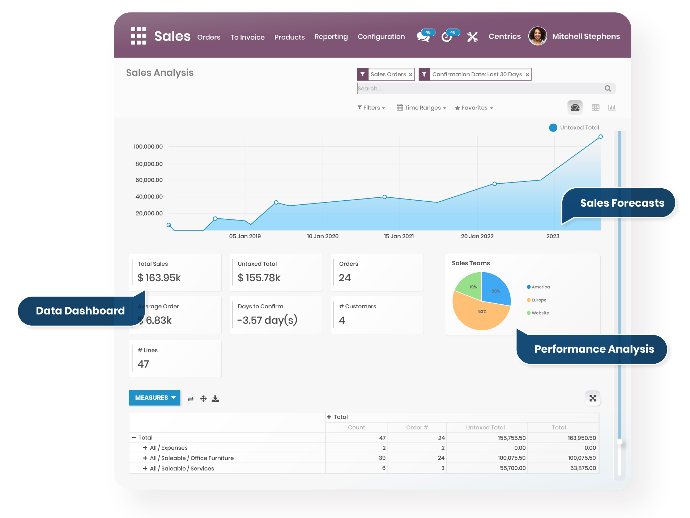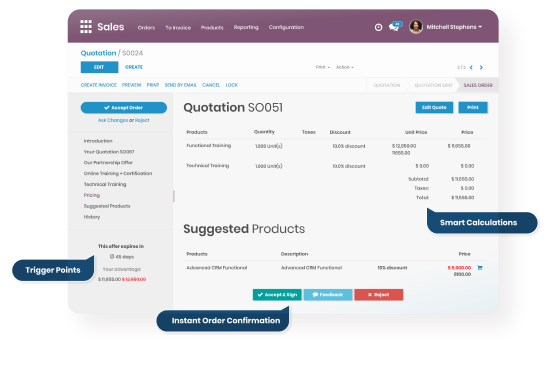 Streamline Sales and Revenue




Send clear, professional, and complete quotations to your potential customers. Pre-defined template quotations can save time and increase accuracy, simply enter the product information and Odoo will instantly compute the subtotal. Use quotations for upselling, suggest complementary products, add closing triggers, discounts, and more. Even convert quotes to sales orders with a single click or allow your customers to confirm the order with an electronic signature.

Easily manage and review invoices in the sales module. Instantly send invoices via the email gateway and keep track of all communication on one platform. Manage payment terms by customer or by invoice.
Customization

Closed CRMs require a higher price bracket before providing subscribers the freedom to customize modules, workflows, fields, and features. Alternatively, Odoo's open-source platform empowers users with the flexibility to do more

Pipeline Management
The Kanban view provides you with a clear overview of all sales opportunities and in which phase of the pipeline they are. Manage the stages of your sales process with the user-friendly drag-and-drop tool.​

Automation
Automate deals, emails, promotions, and invoices based on lead behavior and contract agreements. Odoo can effectively assign lead scores and sales representatives to specified leads or sales orders.

Automate the Sales Process and Drive Revenue

Talk to our experts and discuss to implement CRM software in Sri Lanka .

What Happens Next?


Our business consultant will reach out to you in a few days following an analysis of your project requirement

Our consultant will schedule a demo to show you how Odoo can help solve your specific problems and challenges.


Our business experts will process guidelines and estimated timelines