Centralized Management of HR Operations
Track, monitor, and manage all important information on each department at a glance with our HR software in Sri Lanka . Configure dedicated operational modules to oversee employee profiles, benefits administration, employee relations, payrolls and contracts, attendance, and departmental information, in one integrated platform.

Restrict visibility of sensitive information to only HR Managers or members of your leadership team, or make general information such as the employee directory accessible to all employees.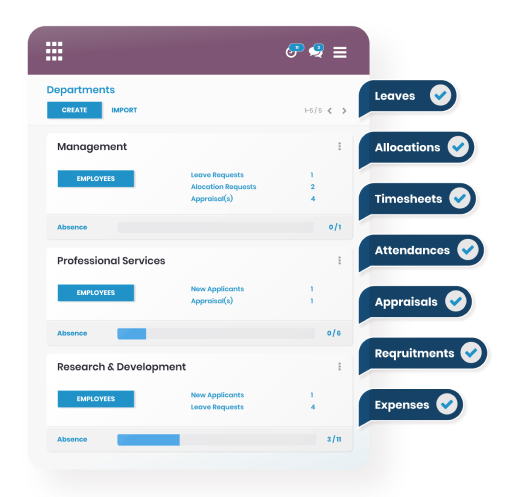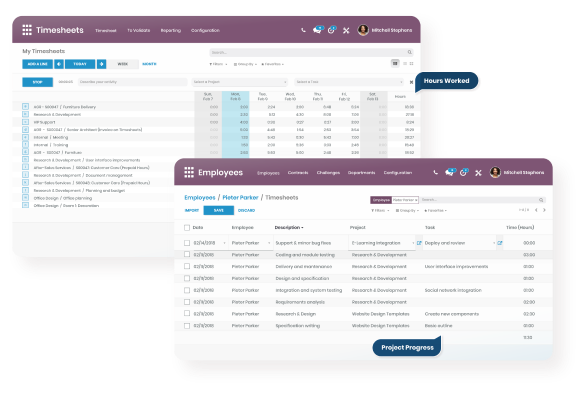 Track Time and Performance


Track hours of work and sort employees by project, department, task, or client with our HR systems in Sri Lanka. Easily access statistics to record and analyze employees' work hours, punch-in/punch-out timing, work-from-home requests, attendance, leave applications, and more through detailed timesheets and seamless integration with biometric devices.

The reporting tool automatically posts reports based on real-time data, helping HR managers evaluate the hours spent on a specific project, on the field, and on client management. Odoo Timesheets could be directly integrated with Accounting to automate payroll processing, eliminating room for payroll errors.
Leave Management


Provide employees with an intuitive self-service portal to record their requests for vacation, work-from-home, compensatory time off, and more. Instantly receive an alert when a request is submitted and decide to either approve them or refuse them, give an explanation for the refusal with a note.

Odoo provides managers with one complete view of their teams' leave, helping them easily organize and forecast the distribution of tasks and projects to make sure productivity is at its highest level. Get statistics on applied leaves and create detailed reports that highlight request types, departments, or employees.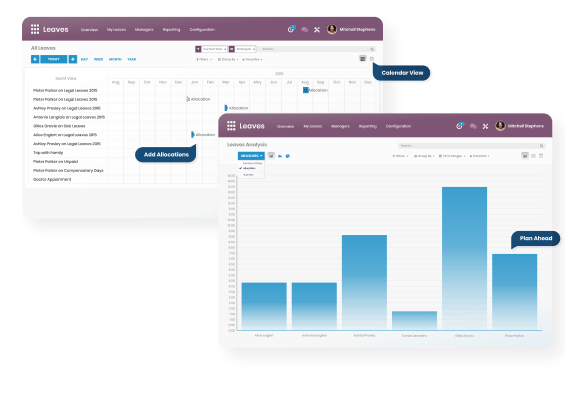 Streamline Expense Management


Employees can easily attach copies of their receipts directly to an expense record, whether it's travel expenses, office supplies, or any other employee expenditure. Managers can then review all expenses and validate, or refuse requests with just a click. Once approved, seamless integration enables all expenses to be immediately updated in Odoo Accounting.

Generate real-time reports to assess expense records across the entire team to manage costs efficiently and maintain budget controls.
Employee Evaluation and Appraisals


Conduct periodical evaluations of your employees' performance to assess the value your human resources bring to your organization. Create evaluation plans with a clear schedule to automatically generate surveys, interview requests, and reminders to respondents. Manage several types of evaluations: top-down, bottom-up, self-evaluations, and final evaluation by the manager. Turn every evaluation into a printable PDF form so managers can easily review the content and finalize the evaluation.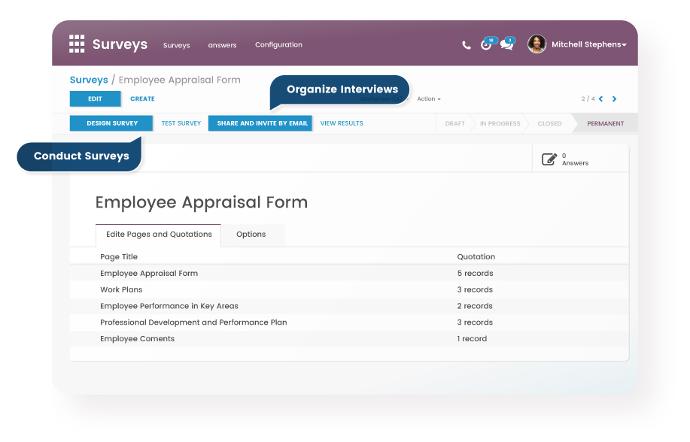 Recruitment


You no longer need to outsource your recruitment. Configure a job board, promote your job listings, and easily keep track of submitted applications. A new email address is automatically assigned to every job offer to ensure applicants are routed to the right posting, and relevant data is automatically indexed. Respond to applicants in just a click with templates or personalized emails.​

​Use the Kanban view to visually configure and customize the steps of your recruitment process. Use reports to compare the performance of postings and get accurate statistics on your recruitment pipeline.​

Database

Gather information concerning each employee in one place, create detailed employee profiles and attach relevant documents such as employee resumes, contracts, appraisals, timesheets, attendance, and more. Generate reports on employee trends and turnover rates.

Collaborate
Manage remote employees, track working hours, and share documents. Create a seamless transition between departments, configure discussion groups, share informational files, conduct surveys, and chat with colleagues in real-time using the internal messaging system.

Integration

Integrate with Accounting to effectively manage expense reports. Review employees' performance with Appraisals, turn applicants into employees with Recruitment and effectively manage salaries with Odoo's Payroll configuration.

The All-in-one Solution for HR Management Software System in Sri Lanka

Talk to our experts and discuss your Odoo project.

What Happens Next?


Our business consultant will reach out to you in a few days following an analysis of your project requirement

Our consultant will schedule a demo to show you how Odoo can help solve your specific problems and challenges.


Our business experts will process guidelines and estimated timelines