Marketing Automation Software and Lead Management System in Sri Lanka

Odoo Marketing helps you market effectively through process automation, streamlining multiple online user channels,
and helping businesses find ideal leads that can be turned into lasting customers. With Centrics software system you can apply marketing automation and lead management system in Sri Lanka
Automate marketing activities such as mass mailing, event promotion, and campaign processing.

Leverage powerful behavioral attributes by segmenting prospects beyond demographic and firmographic criteria. ​

Evaluate prospects based on online behavior, automate the progression of leads as a result of a campaign, assign prospects to team members, and analyze the ideal times to follow up with a prospect. ​

Nurture your leads by setting up advanced workflows and conditional filters that provide in-depth data on the customer journey. ​

Effectively Manage and Visualize
all Digital Campaigns


Design multi-channel campaigns that are dynamic, adaptable, and customizable, enabling you to power up marketing performance and optimize campaigns from lead to close. Control all content in a unified platform, track statistics and measure the performance of your social, email, and SMS campaigns with KPIs.​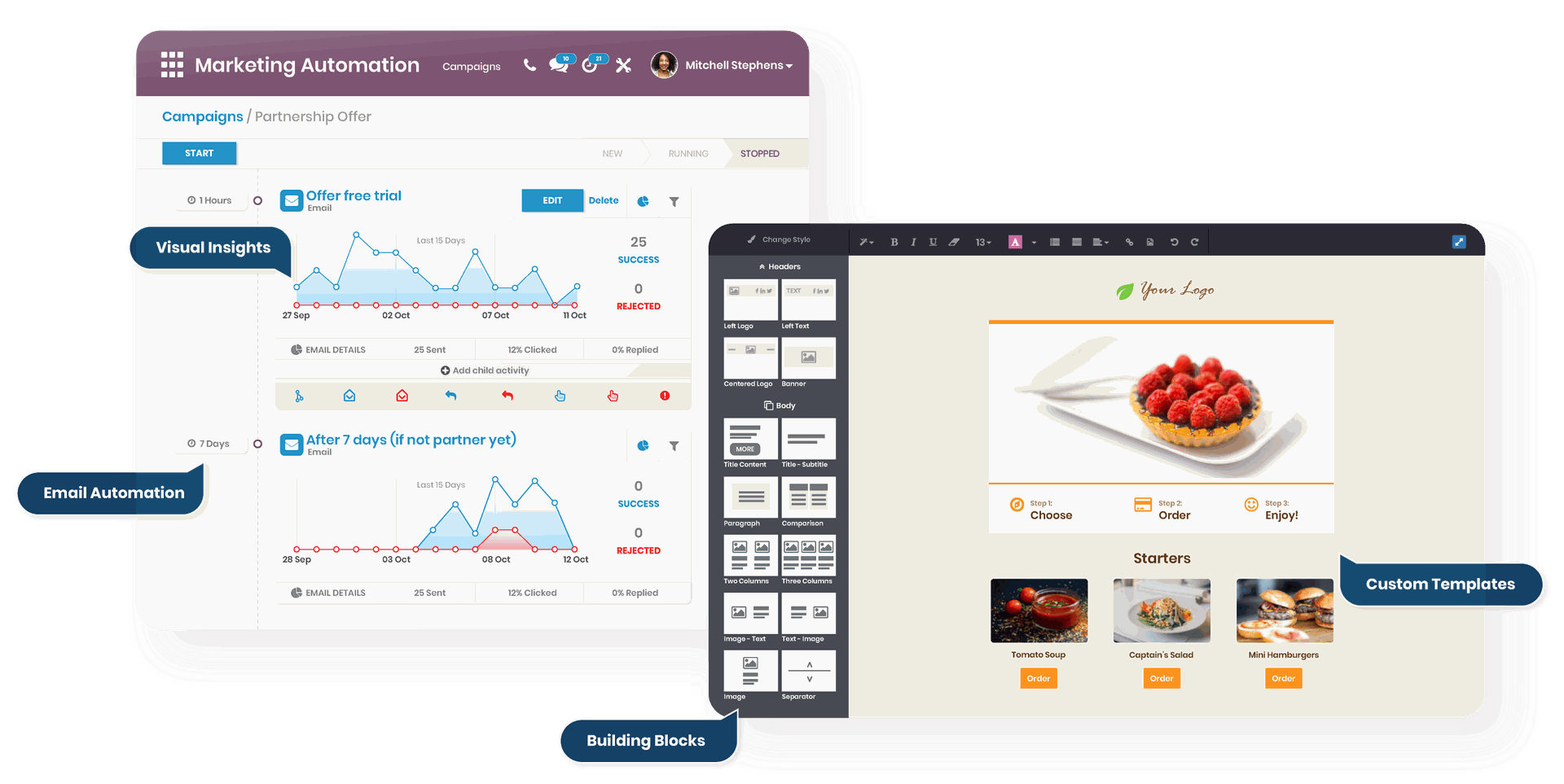 Custom Rules

Create multi-stage campaigns, simply build custom rules based on campaign performance and set time triggers directly on your workflow. ​

Automation

Odoo detects real-time user behaviors, automatically prioritizing and enlisting leads generated to your CRM.​

Testing

Test your campaigns before activation to review the event as it is in action.​

Evaluate ROI

Capitalize on potential leads, assess the ROI of each campaign, and generate forecasts for future campaigns.​

Manage and Coordinate Events


Organize, promote, and sell events online. This versatile module supports small-scale and large-scale events such as conferences, exhibitions, festivals, webinars, seminars, and more, allowing to you obtain real-time insights on your event with visual dashboards.​

​Structure event pages with premade building blocks. Design and instantly edit landing pages, speaker bios, agendas, calls-to-action, and more. Manage event budgets, visually schedule tasks, and manage attendance with customized badges. Use attendee segmentation, social network integration, SMS triggers, SEO integration, and automated mass mailing features to promote events to the right audience. Sell tickets online and allow payment by credit card or invoice.​

Speed up processes and streamline operations in one single application, helping you plan and execute robust, exciting, and impactful marketing campaigns.
Email Marketing
Select from dozens of desktop and mobile-friendly templates, change the layout accordingly, or design custom templates with a simple drag-and-drop of pre-made blocks. Import contacts, create custom mailing lists, schedule automated campaigns, and track the real-time performance of your campaigns.
SMS Marketing
Prepare and schedule SMS campaigns that have a proven open rate of 98%! Send SMSs directly to your contact list or segment target audiences based on subscriptions, past orders, or abandoned carts. Odoo integrates link trackers to monitor click rates and measure revenue generated.
Social Marketing
Plan, monitor, and analyze your Facebook, Twitter, and LinkedIn accounts in one place. Schedule posts, add streams to your dashboard, send push notifications and start live chats with website subscribers, even monitor lead and revenue generation in real-time.

Forum
Drive traffic to your website with interactive and diverse forums that provide visitors with important information. Integrate with Google Analytics to easily track and analyze the most viewed and shared topics for enhanced customer engagement. Grant badges and give active members access to more functionalities.

Blogs
Use the drag and drop feature to design attractive, mobile-friendly blogs. Provide a comments section at the end of the blog, easily share the blog on social media, and grow your subscribers with smart call-to-actions.


Live Chat
Provide website visitors with information and convert leads into customers with direct chat. Filter your audience by country to engage with visitors using the right language and tone. Instantly access information from the back end to give visitors accurate and precise answers. End the chat with a rating tool to gather customer feedback and improve the quality of service
Streamline Operations

Get complete visibility into core marketing processes. Automate and streamline workflows to create a leaner, data-driven organization that empowers its marketing team with up-to-date data on prospects and customers.
Database
All company data and real-time insights are housed in a single, modular, online platform that can be viewed and accessed by every employee, at any time, and from anywhere. Register all contacts, and categorize leads, sales opportunities, and customers.
Automation
Multifunctional and seamless approach in organizing all aspects of the marketing process. As a workflow is completed by one team, automate handoff to the next department. Email chains and paper trails are a thing of the past.

Leverage Advanced Marketing Tools and
Metrics to Covert Leads into Customers

Talk to our experts and discuss your Odoo project.

What Happens Next?


Our business consultant will reach out to you in a few days following an analysis of your project requirement

Our consultant will schedule a demo to show you how Odoo can help solve your specific problems and challenges.


Our business experts will process guidelines and estimated timelines