Optimizing Invoicing and Simplifying Accounting in Sri Lanka


With Centrics accounting software in Sri Lanka easily manage supplier and employee contracts, and schedule recurring invoices based on service agreements. Odoo enables the automatic billing of timesheets, sales orders, contracts, delivery orders, or time and material - ensuring you get paid faster. Automatically create professional invoices from sales orders, automate follow-ups and reminders for late or outstanding payments, and accept online payments to help streamline billing and make payments quick and easy.

Easily generate clear, dynamic reports and financial statements such as your earnings report, cash flow statements, or balance sheet. Odoo allows you to quickly annotate statements, filter and compare financial data, and zoom in on complex reports.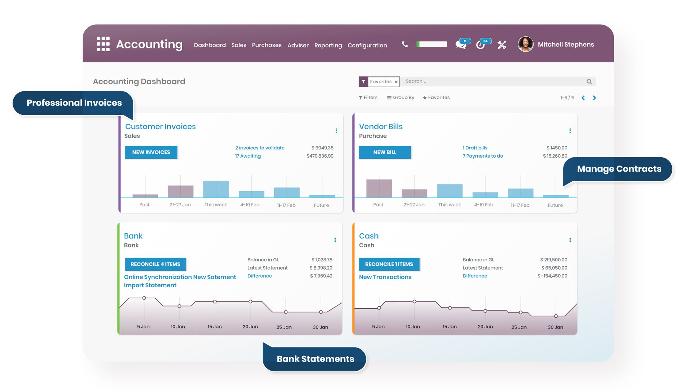 Accounts Payable and Receivable


Accounts Payable: Control supplier invoices and get a clear forecast of your future bills to pay. Easily compare the information displayed on the Purchase Order, the Vendor Bill, and the Receipt, to ensure accurate and timely payments. Upload scanned PDFs or images of vendor bills or expense reports, and Odoo will use Artificial Intelligence to automate their creation.

Accounts Receivable: Create professional and full-featured invoices, add payment terms, discounts, multiple taxes, and price lists. Odoo suggests outstanding payments when creating an invoice so that you don't have to reconcile it later. Odoo also supports multiple payments, partial reconciliations, advance invoices, and cash discounts.

Automated Bank Reconciliation


Get bank statements synced with your bank automatically to easily keep track of bank account movements and the status of invoices. Automate reconciliation propositions, register extra journal items on the fly, and search for both open and paid invoice records efficiently.

Odoo is configured to learn account numbers based on the first manual reconciliation, allowing for a 95% matching of invoices and payments, while the smart matching tool tackles the remaining 5%. Odoo Accounting also supports online transactions by notifying finance managers and automatically creating a payment for easy reconciliation.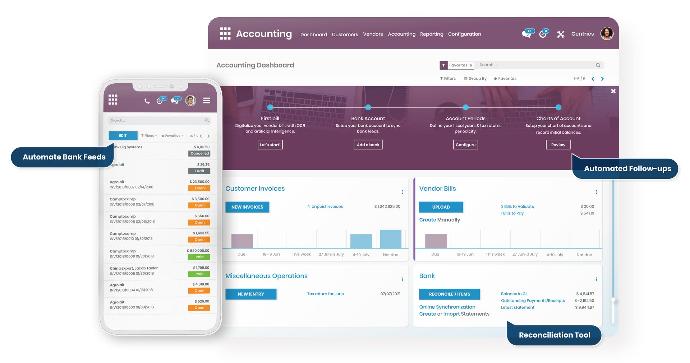 Get Paid Faster



Multi-currency Support

Get daily updates on your currency rate.

Multi companies

Automate business flows and integrate all subsidiaries in the same system with inter-company rules and real-time consolidation reports.

Analyze your Sales



Speed up shipment processes and track orders from Odoo with easy integrations for major shipping carriers. Get delivery costs computed automatically using Odoo's embed Delivery Method configurator.

Easy Signature
Send, sign and approve sales orders or invoices online. Easily submit signature requests and track their status.

Document Management

Easily share, categorize, and archive scanned documents to save time recording vendor bills, scanning contracts, and approving documents.

Expense Management

Monitor all employee expenses, from the upload of receipts, expense validation, and reimbursement.
Affordable

Most integrated ERP solutions demand a higher price bracket before enabling system customizations and automation. Simply pay for only the features you use and scale up your applications as your business grows

Save Time & Resources
Executives no longer need to manually update, reconcile banking records, or balance cash flow statements. Little to no human error leads to avoiding operational bottlenecks and delivering orders on time.

Integration

Fully integrated finance operations eCommerce, Sales, Purchase, and more allow you to create granular financial reports comprising of accurate and up-to-date data and operational insights that drive better decision-making.

Streamline Finance Workflows and
Increase Efficiency

Talk to our experts and discuss your Odoo project.

What Happens Next?


Our business consultant will reach out to you in a few days following an analysis of your project requirement

Our consultant will schedule a demo to show you how Odoo can help solve your specific problems and challenges.


Our business experts will process guidelines and estimated timelines